The portable routers like RAVPower Filehub are becoming a thing as more people are traveling in a record number. If you are in need of a high-quality portable router that can deliver exceptional internet speed anywhere you go as an alternative choice to hotel internet. Meet the world's most portable and affordable router: RAVPower Filehub.
The Filehub AC750 is a wireless travel router that measures only at 4.5 x 3 x 0.9 inches and is incredibly lightweight. Yet, it is among one of the most popular choices among the buyers who own this travel router gadget. So, if you are looking for a travel router to meet your needs then stick around with us and read our in-depth RAVPower Filehub review.
Without further ado, we are going to introduce this gadget and the features it has to offer for those looking to have their hands on a portable router.
Introduction to RAVPower Filehub Review
As the title of wireless Wi-Fi router suggests, the RAVPower Filehub is a portable router that is suitable for traveling purposes. It provides you access to the Internet via Ethernet cable that can be used anywhere around the world. This is especially handy if you decide to stay at a hotel room that somehow has a strange port.
Furthermore, the RAVPower Filehub can act as a Wi-Fi bridge and wireless extender. Basically it can join on your existing Wi-Fi to expand it. But I found out that it doesn't really provide that much range support. Besides, the bridge mode is useful, which I will further explain it in detail later.
The Filehub also has the ability to utilize 2.4GHz or 5Ghz networks. You also have the option to use both as it will alternate between the channels to deliver optimal access experience to the Internet. Security features are also included so you don't have to worry about exposing your data in public use.
Additionally, the RAVPower Filehub has the capability to connect to the network via 802.11 b/g/n/ac to ensure maximum compatibility with both old and new wireless devices. This is incredibly useful if you still use old devices but would like to continue access to the Internet on it without upgrading yet.
Wireless Data Transfer & Camera Storage
You can mutually transfer data from your tablet or smartphone to this device to your laptop seamlessly. In a sense, this portable router also can serve the role as data storage which is actually impressive. The ability to transfer the data wireless is a major selling point for the RAVPower Filehub.
To transfer the data, we recommend using a 128GB microSD card or even better 256GB microSD card for expanded storage. But that's not just that, you can connect RAVPower Filehub to a HDD drive for even greater storage capacity if you have a lot of data that you want to transfer.
Furthermore, the Filehub App has a built-in camera control. Simply touch the camera icon in the app and you can capture pictures or videos on your smartphones. But, instead of storing these footage on your mobile devices. They are stored directly to the storage on the RAVPower Filehub.
Whenever you need to store footage, you can offland onto an USB hard drive without the need of your computer. Simply connect to the USB drive and insert micro SD card. Then you need to press SD –> USB transfer button to start the process. Once the SD card icon stops flashing, the transfer is completed and you can safely remove it.
Simultaneous Connections
One of the main advantages that RAVPower Filehub has over any portable routers is the ability to connect up to 5 devices at the same time. You can do a combination of smartphones, tablets and personal computers connected to the hard drive — which allows for an unified file sharing folder.
This feature makes RAVPower Filehub an ideal option for office work space and a group of entrepreneurs who relies heavily on computers and generates a lot of data. The fact that it allows a unified file sharing folder enables collaborative work.
Media Streaming
Another feature that I found handy is its built-in media streaming. Once you connect your iPhone or laptop to the Filehub Wi-Fi network. You can basically play any music or video files that are stored in the Filehub's storage.
This is a great way to think about storing your kid's favorite movies onto the Filehub. So that when your family goes on a road trip, you can easily turn on the Filehub into a personal media server to keep your kids company.
The movies load quite fast and playback of these streaming files is near perfect. Which makes the RAVPower Filehub one of the affordable options to store all the files and play them whenever you want to without the need of an onboard storage.
Likewise, the RAVPower Filehub also acts as a media server. You can store up to five devices on Filehub which serves DLNA files to playback on devices like Chromecast, Roku, Firestick and others.
Bridge Mode
As mentioned previously, I will further talk about this feature and why it will be handy for you. This feature allows you to connect the Filehub to your home's Wi-Fi network. Basically, it works as a Wi-Fi extender.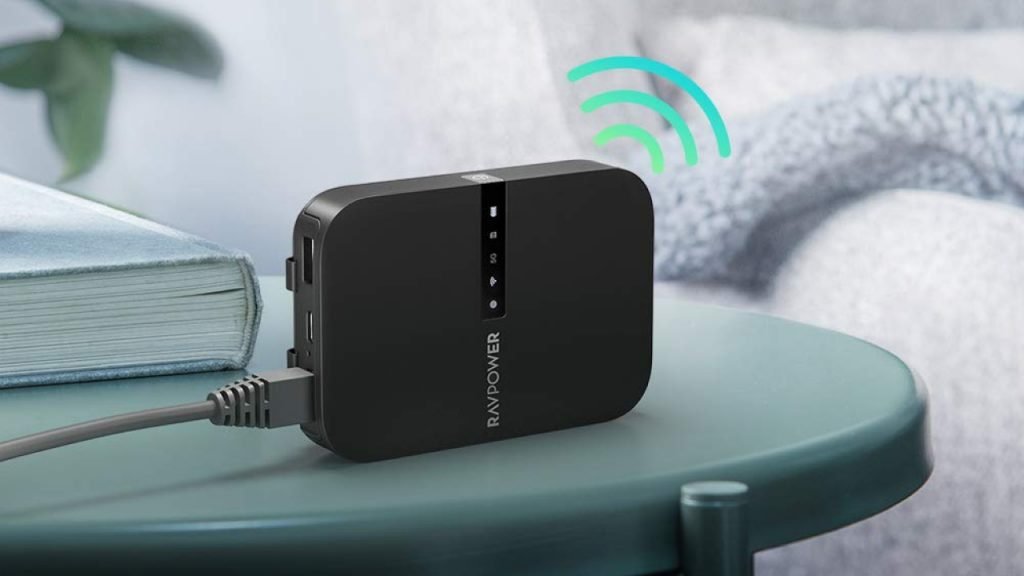 You can connect your devices to Filehub that will serve the role as bridge to your home internet. Which will allow you to access all the features that Filehub has to offer. Although, you will have to remain connected to the Internet in order to utilize these features.
Bottom Line of RAVPower Filehub
In conclusion of our in-depth RAVPower FIlehub review, you are probably asking yourself whether it is worth buying this mobile and portable wireless Wi-Fi router for a complete virtual travel.
RAVPower Filehub is the perfect mobile router that offers an affordable option for avid travelers and outdoor enthusiasts who want to be able to stay connected wherever they go. Packed with good performance, speed and reliability, it is the ultimate choice combined with a great price tag.
There are just way too many awesome features to ignore this wireless portable travel router. Just get in my bag please. You can get RAVPower Filehub AC750 for less than $50. We hope you found our in-depth RAVPower Filehub review helpful and insightful. Happy shopping on Gears Deals!
The Review
RAVPower Filehub
RAVPower Filehub is the perfect mobile router that offers an affordable option for avid travelers and outdoor enthusiasts who wants to be able to stay connected wherever they go. Packed with good performance, speed and reliability, it is the ultimate choice combined with a great price tag.
PROS
Inexpensive.
Large external battery capacity.
Wireless media streaming.
Stellar transfer options.
Bridge mode support.
CONS
Isn't compatible with Mac formatted storage.
Can't read SD cards larger than 256 GB.
Can't read hard drives that is bigger than 3 TB.
Review Breakdown
Design

0%

Performance

0%

Realiability

0%

Features

0%

Price

0%