Commuting from your home to the workplace can be tiresome sometimes. What if there's a better and fun way to commute? Which is why we are introducing the best smart self-balancing electric scooter of 2020, called Segway Ninebot S. This fancy gadget only cost just under $500 which makes it an absolutely budget-friendly scooter.
The Segway Ninebot S runs completely on battery power which can be recharged via a wall outlet or a power bank. Instead of spending your money on refilling your car's tank with gas, you can take advantage of the free source of electricity with this scooter and commute with ease.
Whether it is a short distance or long distance, you will be able to zip across with a Segway Ninebot S electric scooter. As fancy as the name of this gadget goes, it's designed for commuting in urban areas as well as rural areas.
The Segway Ninebot S electric scooter is outfitted with high quality battery and powerful motors that pack the punches for exceptional performance. Plus, it comes with a built-in advanced braking system and never-flat tires for a smoother ride experience.
Compared to other electric scooters, the Segway Ninebot S revolves intelligent self-balancing feature which weights based on your body mass. Lean forward and it will roll forward. Lean backward and it will roll backward. So, stick around with us to learn more about Segway Ninebot S review before you buy it.
What's Inside a Segway Ninebot S Box?
Before we kickstart our in-depth Segway Ninebot S review, we want to briefly explain what's inside the box. If you are excited about getting your hands on the very first electric scooter. Hang on and grab a cup of coffee because we are going to explain what comes inside the box.
The purpose of this part in our Segway Ninebot S review is to help you know what to expect inside the box. Often buyers buy something and end up regretting it because they didn't know what's included in the box. Likewise, if you are a tall person, you might want to include the handlebar extender along with the order.
Here's the list below:
Segway Ninebot S Electric Scooter
Charger Cord
User Manual
Handlebar Extender (Optional & Separate Order)
And when you buy a brand new Segway Ninebot S, you are going to get an electric scooter that focuses on:
Easy to use features.
Good maneuvers.
Integrated charging battery.
100% comfortability.
Lightweight & portability.
Self-balancing Motors.
Powerful Performance.
Good Speed.
Beginner-friendly.
What's Segway Ninebot S Electric Scooter Specs?
Why lift your feet when you can just zip around with a brand new Segway Ninebot S electric scooter? This gadget is one of the best and affordable electric scooters to buy in 2020. It doesn't cost too much money and recharging is absolutely free.
With a total weight of 28 lbs makes it simple to carry around and thanks to compact size, the Segway Ninebot S is portable. Which means you can easily store it in your car or home and travel with simplicity. If you see any customer reviews about Segway Ninebot S, you will understand why it is one of the widely praised electric scooters to buy.
Scroll below to learn more about this electric scooter specifications in details:
Max Motors Power: 1,600 Watts
Max Speed: 10 MPH
Range: 13.7 Miles
Max Payload: 220 Lbs
Max Climbing Slope: 15 Degrees
Adjustable Steer Bar: No
Headlights: Yes
Alloy Frame: Yes
Anti-theft Control: Yes
Segway Ninebot S Electric Scooter Design & Features
The Ninebot S Scooter is equipped with tons of features that takes a very different approach compared to traditional scooters. If you like the idea of being able to maneuver using your body to thrust the movement forward and backward. Then you will absolutely love Segway Ninebot S electric scooter.
This gadget comes with a smart self-balancing board mounted on both wheels. To navigate around, you have to thrust your body forward and it will launch the scooter while keeping your body balanced. Design-wise, the Ninebot S scooter is crafted with high-quality alloy that provides exceptional durability.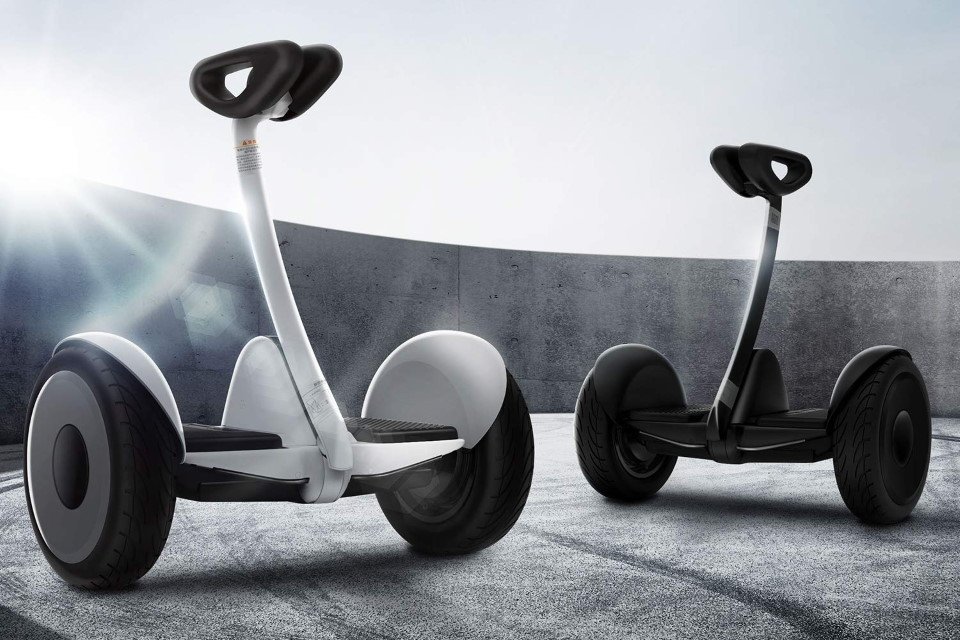 Although, there's something that you should be aware of since this electric scooter only can support up to 220 lbs. Any more than its maximum payload capacity will place additional stress on the power motors and won't be able to reach optimal performance.
All status about the battery is provided at a quick glance that keeps you notified of voltage, current, temperature, and usage as well as queries and remaining juice. Which do help improve your ride experience, safety, and comfort.
Segway Ninebot S Electric Scooter Performance
The Ninebot S electric scooter is outfitted with dual 400W motors that easily reaches a maximum speed of 10 miles per hour. In addition to that, a fully charged battery will provide up to 13.7 miles range. In that distance, you can easily cover a simple commuting distance.
We tested how it performed on the slope and found out that this gadget can roll on slope upwards to 15 degrees. Any degrees further than what it could do will prevent the scooter from rolling upwards. Therefore, the Ninebot S electric scooter works the best when there's not too much terrain shift and is flat.
Which makes this gadget absolutely an ideal choice for urban areas. Although, if you live in rural areas and there's not too many hills, then this gadget most likely will work well. Consider the factors that it has a relatively good speed and range at an affordable price.
Why Buy a Segway Ninebot S Electric Scooter?
If you are going to ask me that question: why should I buy a Segway Ninebot S electric scooter? The response will be: it is an electric scooter crafted by a renowned company who specializes in delivering high-quality gadgets packed with stellar performance.
You don't even have to worry about the tires getting flat since it is made with never-flat technique. Which makes it an ideal choice for rolling on pebbles landscape when you need to sometimes. Plus, the controls are easy to use — absolutely user-friendly for beginners and experienced riders.
Overall, we highly recommend you to buy the Segway Ninebot S electric scooter. Alternatively, you can check out one of the best electric scooters for even bigger range, Kickscooter MAX. Share your experience and thoughts with us about this gadget. Stay tuned for more updates on the upcoming gadgets that are evolving right around the door. Happy scooting!
The Review
Segway Ninebot S Scooter
The Segway Ninebot S electric scooter is a high-quality gadget that encompasses on self-balancing feature. Thanks to its built-in battery charger and portability, it delivers speed, performance, and sleek design that weights based on your body mass. Enjoy commuting over distance absolutely hands-free, starting today with the Ninebot S electric scooter.
PROS
Lightweight & portable.
Easy-to-use.
Good performance.
Fast recharging.
Affordable.
Beginner-friendly.
Hands-free experience.
CONS
Limited travel distance.
Average speed.
Review Breakdown
Design

0%

Performance

0%

Reliability

0%

Features

0%

Price

0%