Meet Moto 360, the third generation smartwatch made by Motorola, a well-known brand and company that manufacture smartphones, watches and other types of gadgets.
The Moto 360 is a smartwatch powered by Wear OS that incorporates all the latest features and advanced functions that you will need on your wrist. It also boasts a number of improvements over its predecessors.
This $300 gadget comes with everything you would expect from a smartwatch that makes it easy for you to fly on the go, such as integrated features for contactless payments, background heartbeat rate monitoring and such.
In our in-depth Moto 360 review, we will cover important points that you need to know about this smartwatch, mainly design and build quality, features, performance, and connectivity.
That being said, stick around with us to see if the Moto 360 smartwatch is the right gear for you!
Introduction to Moto 360
The Moto 360 debuted to the market as a high-tech smartwatch designed to cater a wide range of people who need a watch that can do everything from monitoring heartbeat rate to contactless payment to communicating with their family members and friends.
At the same time, Moto 360 is a smartwatch that encompasses fashion design that looks stylish, and impressively appealing that certainly will elevate your status in the business and personal world.
The Moto 360 smartwatch is a sharp contrast from the popular Apple Watch Series 3, which is rather slim, minimalist and simple enough packed with tons of features.
If you are shopping around for a smartwatch, then you might want to consider getting your hands on a Moto 360 smartwatch for these good reasons below. In our in-depth Moto 360 review, we will talk about these points:
Design and Build

Performance

Features

Connectivity
At the end of in-depth Moto 360 review, you will be able to make the right buying decision for yourself. Without further ado, let's get the time rolling and find out!
Moto 360: Build and Design
On the first impression, Moto 360 captures the attention boasting a classic round design that set itself apart from the rest of competitors. It is packed with tons of features that you would expect from a $300 smartwatch.
The Moto 360 smartwatch comes in three different types of colors: rose gold, silver and black painted on a stainless steel body with a shiny bezel. This smartwatch also includes two 20mm straps.
Inside the package, you will get a silicone strap which is incredibly comfortable and easy to wear. They are great to wear for working out. But if you are going to work or plan to have business meetings, the leather straps are absolutely-must have and look great for professionals.
The Moto 360 3rd generation also features always on display that reveals the entire watch face at a 390 x 390 resolution. It is compatible with Android 6.0 and higher as well as Google's Wear OS 2.0 and iOS 10.0 and higher.
This smartwatch weights 1.8 ounces without either straps which is substantial compared to other smartwatches in the market. But after wearing Moto 360 for a few days, the weight became non-issue.
One of the main advantages that Moto 360 smartwatch has to offer is built-in water resistance. The 3ATM rating lets you swim in the water with this smartwatch up to 30 meters (90 feet) deep. Which makes it an excellent choice for swimming pools.
Moto 360: Performance and Battery Life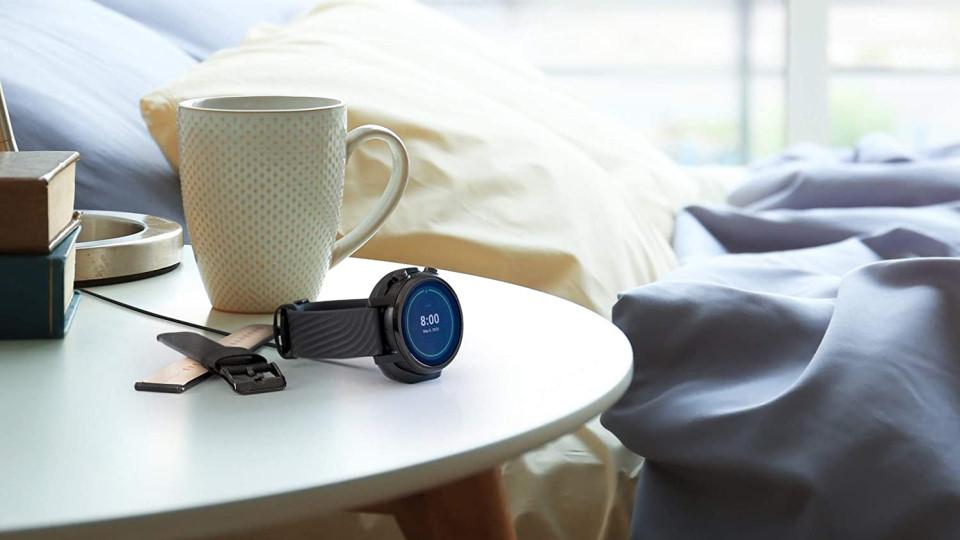 As we navigate through our busy lives, it is important to have a smartwatch that has great performance and long battery life. Which is why it's especially important to know how well Moto 360 performs in general.
The battery that comes included in this smartwatch generally has a working performance up to a full day. But that is without using any apps or functions such as fitness tracking and heartbeat rate monitoring which tends to drain battery quickly.
We tested the battery life on Moto 360 smartwatch using a combination of apps and functions that are battery-sensitivity like GPS module and found out that Moto 360 have a running time of 12 hours. That is with GPS and apps running in the background.
Compared to Apple Watch Series 5 which has no issue running a full day with these apps, GPS, and other smart functions at the same time. For some professionals who rely heavily on apps might find the battery life of Moto 360 a bit of a disappointment.
The upside to a relatively short battery life is that the time it takes to recharge Moto 360 from 0% to 100% only takes one hour. It recharges as advertised which makes it an ideal choice to charge on the go when you are not using the smartwatch.
When it comes to performance, the Moto 360 have built-in Qualcomm Snapdragon Wear 3100 processor, 1GB of RAM, and 8GB of internal memory. These processors are powerful enough to operate advanced functions with minimal effort.
Moto 360: Features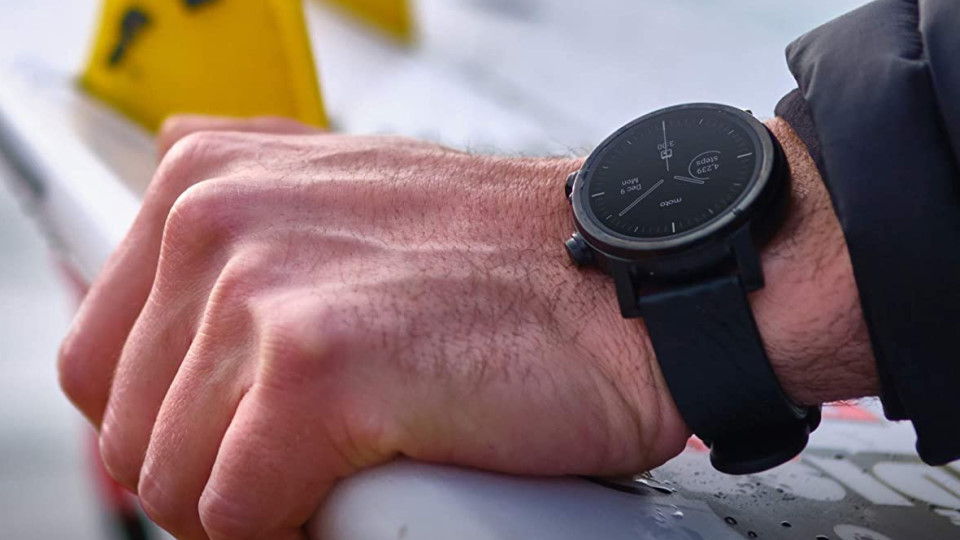 The Moto 360 is a smartwatch that comes with tons of features. In fact, there are several ways you can access Google Assistant on Moto 360. For instance, you can use wake words "OK Google" to command Google Assistant to set timers, alarms, reminders, send messages to your contacts, launch apps and more.
While it is definitely an awesome feature to have and certainly makes our life easier by talking to the smartwatch. Google Assistant is largely hit and miss during our testing. As we found out that in order to get the best experience, Moto 360 needs to have a strong connection to Wi-Fi in order for Google Assistant to perform best to its ability without producing errors.
The Moto 360 smartwatch also introduces a number of improvements such as contactless payment which lets you pay without making any contact or using your cards. This feature is great if you are in a rush and need to get somewhere else without spending extra few minutes to make the payment.
When it comes to working out, the Moto 360 is equally versatile and comes with a built-in fitness tracking system that measures your heartbeat rate, steps, distance and total miles traveled. Google Fit is a dedicated tracking app that helps you move around and get in shape.
While a more advanced smartwatch, namely Apple Watch Series 5 is our preferred choice as overall best smartwatch for fitness tracking, heartbeat rate tracking and number of features that lets you do everything on the go, Moto 360 is a solid alternative choice for android users.
In terms of features, the Moto 360 comes with a number of features that are used to detect movement, rate of your heartbeat and ambient light sensor that automatically adjust the brightness setting depending on light.
The Moto 360 also has a built-in barometric altimeter that tracks your activities without the need of a smartphone. This smartwatch is a step further to make your life simple and easy without having to be glued to your phone screen all day long.
Lastly, you can pair Moto 360 with your iPhone. This can be done by downloading the Wear OS by Google App and follow the on-screen directions. The app will let you sign-in using your Google Account to synchronize your contacts, notifications and calendars. The Moto 360 smartwatch also lets you customize and personalize to your own liking.
Moto 360: Fitness Features and Apps
Upon signing in for the first time into Google Fit, you will be prompted to enter your height and weight. Then the app will automatically give you daily goals such as move minutes, heart points and steps to help you accomplish and stay in shape.
But you can edit these goals to your own liking. You earn move minutes for being active that involves moving around like walking or taking the stairs. To earn heart points, you have to get involved in demanding activities such as power jogging.
The Moto 360 smartwatch comes with two physical buttons located at the right side. The top one is a quick launch that pulls up Google Fit right away to view your status. The lower button allows you to customize and select the app of your choice for quick launch.
In Google Fit, you can enable background heart rate monitoring to track your heartbeat rate throughout the day. Additionally, you can check your heartbeat rate manually anytime during the day.
I love the Google Fit's breathing feature which offers a 2-minute meditation to help you wind down smoothly after an intensive exercise. It does show visuals that tells you when to exhale and inhale, which is actually darn awesome.
Aside from these fitness features that Moto 360 smartwatch has to offer. You can also download other apps via Google Play Store such as games or to help improve your productivity. Personally, I downloaded Maps and a couple of games to keep myself busy.
Why Buy Moto 360
If you are looking for a smartwatch to wear on your wrist. You definitely will want to consider Moto 360 for a number of reasons — not because it is relatively affordable thanks to a recent price cut which dropped from $349 to $299.
The Moto 360 is a stylish smartwatch that encompasses built-in fitness tracking, heartbeat rate tracking and powerful processor that makes the entire navigation experience seamless, while delivering performance-packed and hassle-free actions that lets you move on the go with ease.
Thanks to built-in Google Fit that allows you to accomplish the goals and stay in shape. Which serves as an important reminder that health is essential to living a good life.
It only weighs 1.8 ounces, yet it is smart enough to perform advanced functions such as Maps and even games to keep yourself busy during downtime. At the price tag of $299, the Moto 360 is definitely a smartwatch that will make your life easier.
Moto 360 Review: Final Verdict
To wrap up our in-depth Moto 360 review, I think this is a great and obviously fashionable smartwatch to buy. While it does have a day-long battery life when you are not using any intensive apps, it is nice to wear them for everyday business purposes.
Although, for some professionals and tech geeks who need certain apps might find out that the battery life drains quite a bit too fast for their own liking. The time it takes to recharge is relatively quick which isn't that bad at all.
I hope you find our in-depth Moto 360 review helpful and insightful. If you have any questions about this smartwatch, feel free to drop a comment in the comments section below. Happy gearing up!
The Review
Moto 360
The Moto 360 is a stylish smartwatch that encompasses built-in fitness tracking, heartbeat rate tracking and powerful processor that makes the entire navigation experience seamless, while delivering performance-packed and hassle-free actions that lets you move on the go with ease.
PROS
Classic Watch
Always-on Display
Plenty of Features
Customization Action Button
CONS
Short Battery Life
Pricey
No Built-in Sleep Tracking
Review Breakdown
Durability

0%

Performance

0%

Features

0%

Design

0%

Pricing

0%