This week we are going to talk about a brand new foldable camera drone called DEERC D10. If you are looking around to buy a camera drone that's foldable and portable enough to be carried around.
Look no further because in our in-depth DEERC D10 review, we will explain why this is the best camera drone for beginners under $100. Through sifting the customer reviews and researching this drone in detail, we are excited to have our hands on the DEERC D10 drone.
Unlike the best drones under $300 and premium drones such as Mavic Mini and Phantom 4 Pro, the DEERC D10 drone keeps things simple and straightforward enough for a beginner who has no prior flight experience to learn and master the basics of flying.
There's a lot of drones to choose from. But at Gears Deals, we handpicked the DEERC D10 because of exceptional product quality. That being said, let's dive in our in-depth DEERC D10 review and find out if this is the best foldable camera drone under $100 for you.
DEERC D10 Drone: Build and Design Quality
At the first glance, the DEERC D10 looks like a high-quality mini-sized camera drone that's expertly crafted. We love how it comes in jet black coating with bright blue stripes located at the rear. To power on the drone, simply press the power button.
Upon activating the drone, its LED lights will turn on around the motor arms. Each motor arm is equipped with brushed motors. While these motors aren't that powerful compared to brushless motors, they are cost-effective and easy to replace.
When the DEERC D10 drone is folded, it only has a body dimension size of 180 x 142 x 65 mm. In an unfolded stance, it extends outward to 340 x 340 x 65 mm. The battery is located underneath and delivers up to 15 minutes of flight time.
Design-wise, this camera drone is made with high-quality ABS plastic. Which provides a thick shell to improve durability. It's great for beginners who are flying the drone for the first time as it protects the drone from breaking apart on crashes or rough impacts.
DEERC D10 Drone: Flight Performance
In this part of our in-depth DEERC D10 drone review, we will talk about this quadcopter's flight performance. One of the most important part that anyone who is looking to buy a brand new drone needs to know is how well it performs.
When we took the DEERC D10 drone out for flight performance, it handled light winds with grace and ease. But because this drone is small and doesn't come with enough propulsion power, it can't handle outdoors with moderate wind conditions.
Therefore, we recommend flying this drone indoor or when the outdoor wind condition is gentle and calm. That being said, the flight controls are super easy to learn even for a first time flyer since the remote controller isn't cluttered with buttons.
DEERC D10 Drone: Features
We think it is especially important to point out that while the DEERC D10 drone does not have built-in GPS modules for smart features. It still comes with a wide array of fun and exciting features that will definitely keep beginners busy.
We have included several key features that the DEERC D10 drone has to offer and think it will be interesting for you to know. Below is a list of key features that you need to know about.
Headless Mode
One of the important key features is headless mode. Instead of flying the drone based on the direction it is facing at. This mode re-orientates the drone to fly based on the direction you are moving the movement lever instead of the direction the drone is facing at.
3D Flip Mode
Premium drones in general do not have this feature, which makes the DEERC D10 drone a very fun and exciting quadcopter to fly. To perform 360-degree flips, simply fly the drone in a direction then tap the flip button to perform an aerial stunt.
Return to Home Mode
If you ever lose sight of your drone, you can recall it. To do this, simply push the Return to Home button and it will recall the drone. This sends a signal to the drone to return to the home point. A great key feature to have in case you lose sight of the drone.
Gesture Mode
Instead of using the remote controller to capture stills or record videos. You can capture footage using your hand motion. Form a V-Shape and the drone will create a snapshot. The Gesture Mode is awesome for producing immersive aerial selfie shots.
Waypoint Mode
One of the exciting key features that every beginner should know about is the Waypoint Mode. With the DEERC D10 drone, you can create a custom flight path for the quadcopter to fly. This key feature is great when you want to get creative and record footage without doing any manual controls.
DEERC D10 Drone: Camera Quality
Our in-depth DEERC D10 drone review isn't completed without talking about the quality of the camera. As you know this foldable drone is equipped with a 720P HD camera located in the front. This means, it can capture both still and record videos at a 720P HD resolution quality.
The level of camera quality isn't exactly that stellar compared to high-end camera drones such as Matavish 3, F3 Pigeon Pro or Dragonfly KK13 for instance. But for some budget buyers who just want a camera drone to train on, the DEERC D10 is a good choice.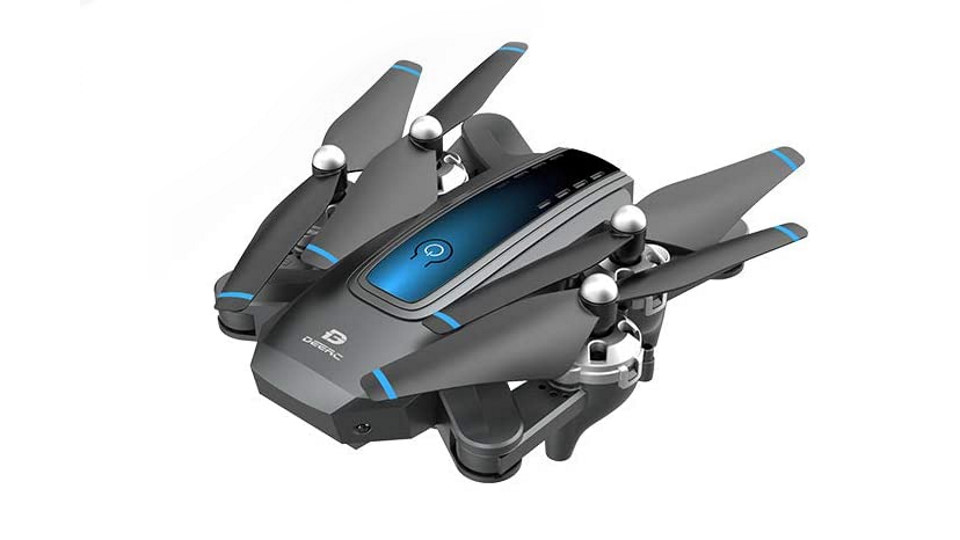 To use the camera on this foldable drone, you need to link to the app on your smartphone. Once the connection has been established, you can capture still or record videos. Although, this means you will be using your smartphone that relies on Wi-Fi signals in contrast to the remote controller.
Which means you need to expect some minor delays when streaming videos from the drone to your smartphone. Furthermore, the camera is fixed so be prepared to see some tilting and shaky footage. Otherwise, the image quality is clear and easy to see.
DEERC D10 Review: Final Verdict
As we come to the final conclusion of our in-depth DEERC D10 drone review, we think this is one of the best foldable camera quadcopter for beginners. It's simple, straightforward and easy to use drones for first-time flyers and recreational remote pilots.
It comes with 15 minutes of flight time with a maximum remote control distance of 100 meters. Which makes it one of the best entry-level foldable camera drones for beginners. A great choice without denting your bank at all. You can grab this drone via here just for a little bit under $60.
We hope you find our in-depth DEERC D10 review helpful and informative. If you have any questions about this camera drone, feel free to ask us in the comments section below. Happy flying and stay tuned for more deals at Gears Deals.
The Review
DEERC D10 Drone
The DEERC D10 is a simple, easy to use and innovative foldable camera drone for beginners. Packed with long flight time and good remote control distance, it is one of the affordable drone that makes an excellent training quadcopter for beginners and first-time flyers.
PROS
Affordable.
Comes with fun features.
Easy to fly.
Durable.
Long flight time.
CONS
Camera quality is mediocre.
Review Breakdown
Durability

0%

Flight Time

0%

Flight Performance

0%

Camera Quality

0%

Features

0%

Price

0%