Introducing Rockpals RP300W, a budget-friendly portable battery generator. If you've ever used a Rockpals product, you know how trustworthy and reliable the products are. Rockpals has produced many large solar generators, and the RP300W portable battery generator is a no exception — a close contender of Jackery Explorer 160.
One of the major benefits of purchasing this solar generator is its power. If we compare the price range of this product with other solar generators, Rockpals wins the race with bright colors. Rockpals RP300W battery pack delivers 300 watts of continuous power and 600 watts of peak power at a very affordable price.
It has many outstanding features that are worth your money. The first feature I like about Rockpals RP300W is its three-way charging capacity. Next, come its convenient output ports for running many different devices simultaneously.
If you're wondering about the output ports, it has 10 output ports; one DC port (12V, 8A), four DC ports (12V, 4A), four USB ports (two USB-A, two QC 3.0) and one 110V AC outlet. But, if that's not enough then the generator's LCD screen will surely impress you. It displays information such as the remaining charge, the power circulating in different rooms, and the nominal values ​​of volt / watt.
In addition, the pure sine wave power of this RP300W battery generator adds another advantage to the list. You will receive an 18-month warranty on this product to ensure it lasts longer. Without further ado, let's find out why we recommend Rockpals RP300W portable power station in our in-depth review article.
Specifications
Capacity / Displacement: 75,000mAh, 3.7V/280Wh
Surge Watts: 600 Watts
Rated Watts: 300 Watts
USB2.0 Port: 2x
QC3.0 Port: 2x
AC 120V Outlet: 1x (Pure Sine Wave)
DC 12V Port: 4x 12V, 1x 24V
Weight: 7.3 lbs
Pass-Through Charging: Yes
In The Box
Inside the box, you should expect the following items to be included with the portable battery generator. When you receive package, make sure to keep a checklist of the items included in the list as you will need them to maximize your charging potential:
User guide

MC4 adapter

Car charger cable

AC adapter

Rockpals portable generator
Performance
Testing the efficiency of the RP300W portable power plant by completely draining the battery from 100% to empty and monitoring the watts used, the RP300W portable power supply is now the most efficient of the three I have tested so far, using 92.10% of the total of 280Wh of capacity.
Like the Anker Powerhouse 200 and Jackery Honda 290, I also connected a lamp to the RockPals 300W and monitored how long it could power the lamp. To my surprise, the lamp stayed on for 8 hours and 7 minutes – two hours more than the Jackery Honda 290 and three hours more than the Anker Powerhouse 200.
With a working time capacity, which is 280wh * 0.85 / 50W = 4.76 hours. The RockPals RP300W power station has enough ports to power almost everything you need and enough capacity to keep your devices running for a long weekend or providing light due to a power outage. prolonged current.
Battery Capacity
Packed with an advanced lithium-ion battery featuring an impressive 75,000mAh capacity. This portable battery generator only weighs 7.3kg and is powerful enough to recharge the following devices multiple times:
Laptop (4 to 5 times)

Smartphones (Up to 25 times)

32″ TVs (Over 4 hours)

CPAP Machine (4 nights ore more)

Refrigerator (Over 5 hours)
In addition to that, Rockpals RP300W solar battery generator do provide variety power options:
Standard 120V AC Outlet (300W nominal / 600W surge)

4 * 12V DC Ports

1 * 24V DC Port

4 * 5V USB Ports
In order to deliver optimal use with CPAP, the RP300W portable power station features two modes to power your machine. The first method can be charged via an 110V AC outlet. Second method is using the 12V / 24V DC outlet. If you plan to use a DC port to power your CPAP machine, we recommend using a DC converter to operate this battery pack.
Power Usage
The RP300W portable battery station features three incredible easy and simple recharging methods. With this battery generator, you can simply recharge through three popular charging methods:
Solar energy (takes around 10 hours to fully recharge)

Wall outlet (takes around 6 to 7 hours to fully recharge)

Car charger (takes around 6 to 7 hours to fully recharge)
if you are planning to live remotely without a nearby source of electricity. It is highly recommended that you purchase a 100W compatible solar panel to go with this portable battery generator.
Durability
One the first impression, RP300W portable power station appears to be very durable. The device has a rigid plastic shell, which is relatively strong. It can be used for hiking or camping as it can withstand the risk of being knocked over as you move from place to place.
It shows a great potential to last for several years before needing to be replaced. If you are looking to maximize Rockpals RP300W battery generator's potential. It is essential that you follow the basic guidelines to extend its battery lifespan and performance.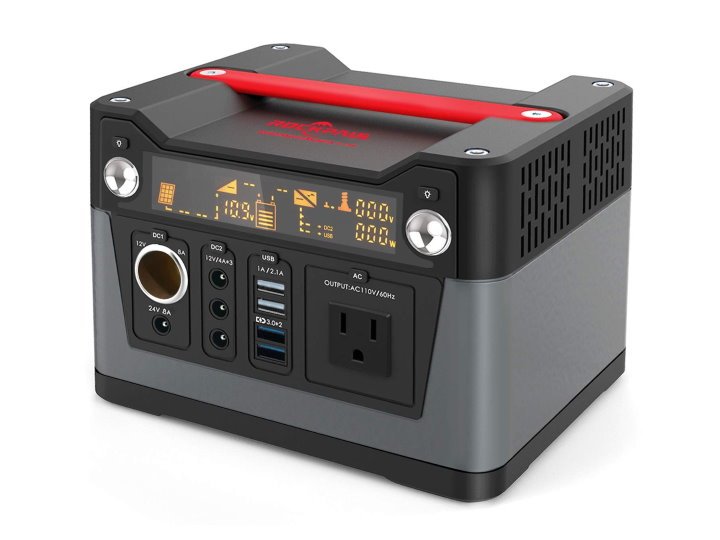 Features
Lightweight and Ultra-portable
The Rockpals RP300W portable generator is indeed one of the ultra-portable power plants of its kind. Thanks to its practical, light, and compact design, you can carry it anywhere easily. While copying the design of the Goal Zero Yeti series, you get an incredible portable solar power plant and a host of other attractive features.
Decent Powerful Solar Battery Station
The RP300W battery generator is a decently powerful model of its kind. It has a capacity of 280Wh with a good lithium-ion battery inside. As stated above, it can power a 32-inch TV for four hours, a CPAP machine for 4 hours, and a refrigerator for 5 hours. Thanks to the integrated pure sine wave inverter, it can guarantee a clean energy flow for most of your AC devices.
Variety of Powering Options
You get the RP300W battery generator with multiple charging options, although it only has one AC outlet. This is a standard 120V output unit for your AC devices. Talking about the DC ports, you have four standard 12V units and a 24V outlet. Meanwhile, it has up to four USB ports with two Quick Charge 3.0 fast-charging technologies.
Pure Sine Wave Inverter
Better than the modified sine wave and clean energy like electricity supplied by the public service. Inductive loads, such as microwaves and motors, operate faster, quieter, and colder. Reduces audible and electrical noise on fans, fluorescent lights, audio amplifiers, televisions, fax machines, and answering machines. And it is a portable gas-free power supply, operates silently (the fan on the generator side makes a slight noise during work), no exhaust gas.
Summary
That is our take on the Rockpals 300W portable power station. It is absolutely one of the best of its kind, with a good rating and customer feedback. Coming to the specifications, you get a truly powerful device to support all of your essential electronics to make your outdoor or emergency life more lively.
To sum our Rockpals RP300W portable battery generator review, it is a good alternative option to GrantMaya 300W and FlashFish G300. Especially if you want to stick with clean power but prefers a good quality battery generator that delivers more power. Then the Rockpals RP300W power station is the perfect pick.
You can grab this portable power station via here just for under $300. Thanks for reading our in-depth review about Rockpals RP300W battery generator. We hope this article helps you out with making the final decision. If you have any questions regarding this product, please feel free to drop a comment in the comments section below. Happy charging!
The Review
RockPals RP300W Generator
The Rockpals 300W portable power station is absolutely one of the best of its kind, with a good rating and customer feedback. Coming to the specifications, you get a truly powerful device to support all of your essential electronics to make your outdoor or emergency life more lively.
PROS
Simple to use and excellent manufacturing quality
Affordable and with a large energy storage capacity.
Different output ports allow multiple devices to be charged simultaneously.
Pure sine wave power.
CONS
Some users have reported that the generator stops under low load conditions.
Review Breakdown
Design

0%

Battery

0%

Performance

0%

Reliability

0%

Features

0%

Price

0%