FlashFish 200W is another good quality portable power supply that will deliver the necessary power for your everyday needs. If you are looking for a portable power generator that uses battery at an affordable price tag. Then stick with us to learn more about how FlashFish 200W portable generators will power your day.
This relatively affordable power supply can be recharged quickly within matters of hours. The average time it takes to recharge FlashFish 200W portable power generators via your car and wall outlet takes around 7 hours.
If you plan to recharge it via solar energy, under the full sun it will take up to 10 hours to replenish battery. Likewise, FlashFish 200W is a direct alternative option to the more popular GrantMaya GM300W and Enkeeo S155.
The FlashFish 200W is a well-rounded portable battery power supply that takes advantage of providing you with an electric source anywhere you go. It is the ultimate solution for avid travelers, campers, and outdoor activities.
We assembled an in-depth FlashFish 200W review to help buyers like you make the best decision. By providing a detailed review that covers all the aspects that this portable battery generator has to offer, you will be able to decide whether to buy it or not. That being said, let's get into the details.
Specifications
Capacity:

40,800mAh 151Wh / 3.7V Lithium-ion Battery Core

Rated Power:

200W

Surge Power:

250W
Input Ports:
Optimal Charging Current:

2.5A

Optimal Charging Voltage:

DC15V

Charging Connector:

DC5.5×2.1mm

Fully Charged Time:

7 Hours
Output Ports:
USB Voltage:

5V (Max Current: 2.4A)

USB Port:

3pcs

DC Output Port:

2pcs

AC Output Port:

1pc

DC Output Voltage:

12V (Max Current: 10A)

AC Continuous Output:

200W (Max: 250W)

Output Voltage frequency:

60Hz

AC Output Voltage:

110V
FlashFish 200W: In The Box
Upon ordering a brand new FlashFish 200W portable power supply. You should be aware that there are parts included in the package. When you receive the package, inside the box should contain the following items:
1*Portable Solar Generator

1*Power Adapter

1*Cigarette Lighter Adapter

1*Car Charger

1*User Manual
FlashFish 200W: Performance
To use this formula as a quick reference to see how well this portable generator will perform. In this situation, we are going to assume the power consumption of your device will be 50 watts. Since FlashFish 200W has a max power of 250 watts, it is capable of powering small electric appliances.
Assuming the working time will be 151wh * 0.9 / 50w = 2.71 hours. Although, the working time of this portable power supply varies. Larger devices that require more power will consume battery quite quickly. On the contrary, small devices like smartphones and drones will consume battery slowly, providing you with more working time.
Battery Capacity
FlashFish 200W portable power station is outfitted with a good quality lithium-ion battery that provides up to 151wh / 40,800mAh. It also comes with a built-in battery management system that optimizes the battery to provide smoother charging experience. This portable battery generator is capable of supporting these following electronics:
5V / 2.4a (Max) output for smartphones, tablets, laptops, drones, and more.

12V / 10a DC output for portable vacuum air blowers, car washers, fans and more.

110V / 60hz for power tools, TVs, lighting and more.
Power Usage
One of the significant advantages that this portable power generator has to offer its flexibility and clean power. Unlike gas-powered generators, FlashFish 200W is able to deliver a consistent stream of power via wall outlet, from your car and even converting solar energy into a source of electricity.
The time it takes to recharge this portable power station under full sun takes up to 10 hours. Which makes it an ideal option for traveling around the equator and living remotely in regions where there is a lot of solar exposure. Time it takes to recharge via your car and wall outlet takes up to 7 hours.
Durability
When it comes to durability, the quality and craftsmanship of FlashFish 200W portable power station is really good. Obviously, the company has invested a lot of time developing a portable power supply that is easy enough for outdoor adventurers and is capable of lasting for several years. Even though, following the basic guidelines is just about as important as it is.
Since the battery life of this portable power supply depends on how well you take care of it and its operating conditions. Make sure you take appropriate steps to prolong its battery lifespan. A FlashFish 200W portable power station with a good working battery will easily last for several years before needing to buy a new one.
FlashFish 200W: Features
Provides Backup Power for Camping
With the FlashFish 200W portable generator your camping trip can have some of the comforts of home. It can be used more efficiently, crank up the music, power up a drone, keep lights on, charge a phone, and power up other delicate appliances.
Optimized for CPAP Use
One of the main advantage that FlashFish portable power station has is two ways to power your CPAP machine:
If you plan to use the 12V DC port, we highly recommend using a DC converter to work with this portable power station. In addition to that, make sure to turn off / remove the heater or humidifier.
Advanced Safety Features
Thanks to this innovative power station, which has built-in intelligent BMS protects the generator and connected devices with:
Short-circuit Protection

Over-current Protection

Over-charging Protection

Low-voltage Protection

Over-temperature Protection
Clean Power
Don't worry about toxic fumes or any form of pollution. Thanks to this portable power generator's ability to convert clean power into electric sources for your everyday needs. FlashFish 200W is completely safe to use both indoors and outdoors. Which makes it a very popular choice among adventurers and starters.
Lightweight and Compact
In contrast to conventional generators, FlashFish 200W weights 7.5 times less and is 5 times smaller. Thus making this one of the most simple and easiest portable battery-powered generators for multipurpose uses. It weighs around 4.07lbs and has a size dimension of 8.2 x 4.3 x 6.2 inches packed with an impressive battery capacity.
Intelligent Battery Status
Thanks to integration of intelligent battery management systems. It provides you with an overview of how much battery juice the portable power station has left. As well as the power consumption and timer before it runs out of battery. With a built-in LED screen that keeps you updated of its status at a glance makes it easy to manage effortlessly.
FlashFish 200W Review: Conclusion
To conclude our in-depth review of FlashFish 200W portable battery-powered generator. We think this is a high-quality portable power supply that will keep your life revolving remotely and on the mobile. It is a fairly simple battery generator that will pretty much meet everything you need like for your drones, laptops, CPAP, smartphones and more.
FlashFish 200W portable battery generator is flexible and reliable enough to charge most electronic devices with relative ease. Combined with its compact size and lightweight makes it an incredibly easy choice for adventurers and RV campers who need a good generator.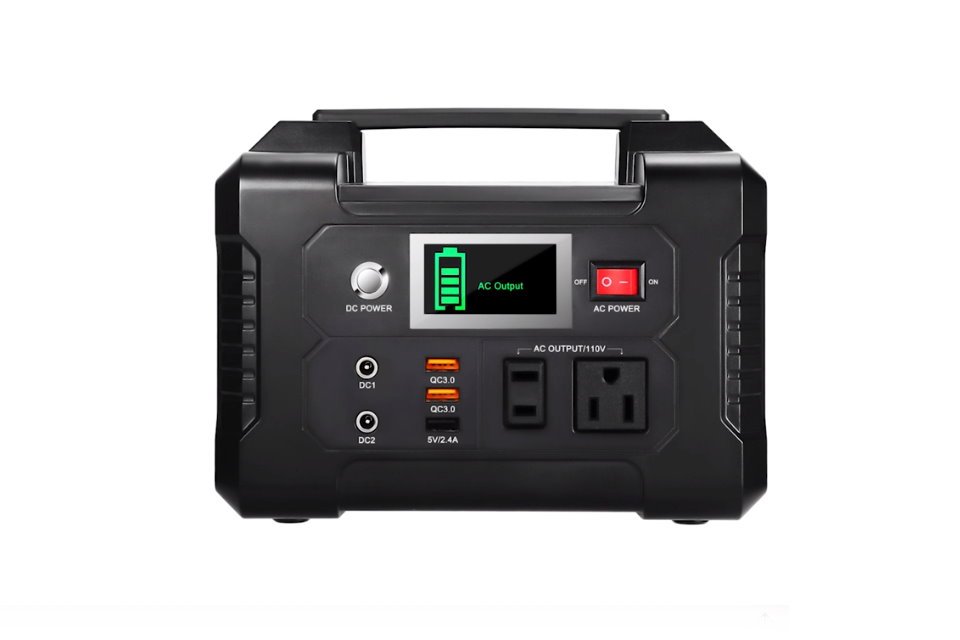 With all of this information throughout our in-depth FlashFish 200W portable battery station review, you should be able to make an informed decision whether to buy it. You can get your hands on this battery-powered generator via here and start experiencing outdoor life in a new way.
Alternatively, you can check out Jackery Explorer 160 and Rockpals RP300W as they are more popular and come with way more battery power and capacity. That is if you need a portable battery generator that can get the job done.
We hope you found our in-depth FlashFish 200W review helpful and informative. Comment below if you have any questions about this portable battery generator. Head over to our generator section to explore our buyer's guides and reviews. Happy charging!
The Review
FlashFish 200W Battery Generator
FlashFish 200W portable battery generator is a flexible and reliable enough to charge most electronic devices with relative ease. Combined with its compact size and lightweight makes it incredible easy choice for adventurers and RV campers who need a good generator.
PROS
Incredible Lightweight and Compact.
Comes with Advanced BMS.
Versatile and Reliable.
Super Easy to Recharge.
Packed with Performance.
Features Soft Handle for Improved Grip.
CONS
Not powerful enough to power small electric appliances.
Limited battery capacity.
Review Breakdown
Design

0%

Battery

0%

Performance

0%

Reliability

0%

Features

0%

Price

0%