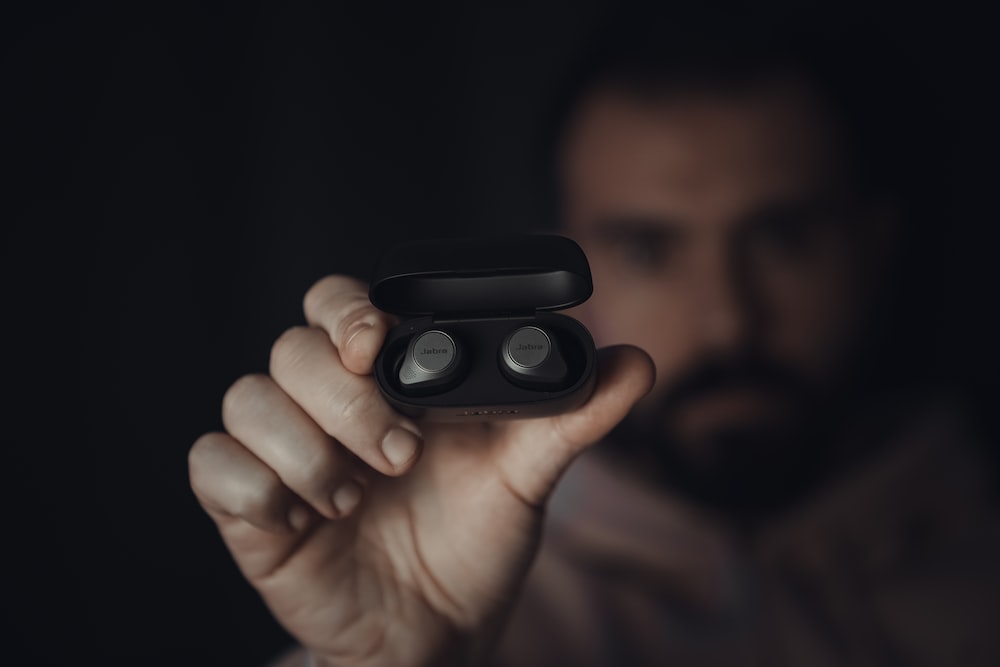 ‍
Image Source: Unsplash
‍
The Jabra Elite 85t is a true wireless earbud that has been crafted with precision and perfection, offering an unparalleled audio experience. This remarkable gadget comes with a plethora of features that are enough to satiate the demands of music lovers and audio enthusiasts alike.
Design and Build: Compact and Comfortable
The Elite 85t has a unique and ergonomic design that helps distinguish it from the competition. The earbuds are semi-open and come with pressure relief vents that prevent undue pressure build-up inside your ears. This thoughtful addition ensures added comfort, even during prolonged use.
The earbuds have been designed to fit perfectly into your ear, providing a secure seal that enhances sound quality while minimizing external noise. To further improve the fit and comfort, Jabra provides three sizes of smooth, silicone oval ear tips, allowing you to select the one that best suits your ear.
The Jabra Elite 85t earbuds have a low-profile design, despite being a tad bulkier than their predecessors. As a result, they protrude slightly from your ears but without compromising on comfort or stability. Available in multiple color options including 'Titanium Black', 'Grey', 'Gold Beige', 'Copper Black', and 'Black', you can choose the one that best suits your style.
Advanced Active Noise Cancellation
One of the standout features of the Jabra Elite 85t is the Advanced Active Noise Cancellation (ANC) technology. With the ability to adjust the level of noise cancellation, you can customize your listening experience to suit your environment.
The ANC feature utilizes a four-microphone technology that helps to filter out unwanted noise, allowing you to focus on your music or calls. Whether you are in a busy café or on a noisy street, the Elite 85t ensures that you hear only what you want to hear.
Superior Sound Quality
With the Jabra Elite 85t, you can expect nothing less than superior sound quality. The earbuds come equipped with 12mm speakers that deliver big, immersive sound. Whether you're listening to your favorite music or taking important calls, the Elite 85t ensures clear and high-quality audio.
The earbuds support SBC and AAC audio codecs, providing a wide range of compatibility with various devices. Furthermore, the Elite 85t also includes a customizable equalizer via the Jabra Sound+ app, allowing you to fine-tune your audio experience to your liking.
Impressive Battery Life
Despite their compact size, the Jabra Elite 85t earbuds pack a powerful battery. They offer up to 7 hours of playback time on a single charge, and with the charging case, you can enjoy up to 31 hours of total playtime. This ensures that your earbuds last through the day without needing a recharge.
Furthermore, the Elite 85t earbuds are compatible with all Qi-certified wireless chargers. This means that when your earbuds run low on battery, you simply have to place them on your Qi charging pad to recharge them. Alternatively, you can also use the included USB-C cable to charge the earbuds.
Connectivity and Controls
The Jabra Elite 85t uses Bluetooth 5.1 technology for seamless and stable connectivity. You can pair the earbuds with up to 8 different devices, and they can be connected to two devices simultaneously. This multi-device connectivity allows you to easily switch between devices, enhancing your user experience.
The Elite 85t also includes intuitive controls for easy operation. Each earbud features a physical button that is both responsive and easy to use. These buttons allow you to control playback, adjust volume, answer or reject calls, and even activate your device's voice assistant.
Jabra Sound+ App and More
To take full advantage of the features offered by the Jabra Elite 85t, you need the Jabra Sound+ app. This companion app allows you to customize your listening experience, adjust the equalizer, control the ANC feature, and much more. The app is compatible with both iOS and Android devices.
In addition to all these features, the Jabra Elite 85t also includes a few other notable functionalities. They come with an IPX4 rating, making them resistant to water splashes. They also come with a 2-year warranty against dust and water, providing you with added peace of mind.
Verdict
The Jabra Elite 85t is a powerhouse in the realm of true wireless earbuds. With its compact design, superior sound quality, advanced noise cancellation, impressive battery life, and a host of other features, it offers an unparalleled audio experience. Whether you're a music lover, a busy professional, or just someone who appreciates good quality audio, the Jabra Elite 85t is a worthy investment.